STAY TUNED FOR MORE EXCITING EVENTS

---
DuPage County NAACP Youth Advancement
Jr. ACT-SO
The DuPage County Jr. ACT-SO Program is an extension of the DuPage County high school ACT-SO Program which is sponsored by the DuPage County NAACP.  The Jr. ACT-SO Program provides a platform for 6th – 8th students to improve their social and team-building skills while building their analytical, problem-solving, presentation and STEM-related competencies.  The program will also bring a greater understanding of social and business issues on a local and global level.
Students work in teams of 3-4 to identify a problem that falls into one of the following three categories: Environmental, Industrial and Societal. Each team produces a unified solution that provides them with the opportunity to enhance their STEM related skills.
The goal of Jr. ACT-SO is to provide an exciting educational experience for 6th, 7th and 8th grade students of African descent. It combines a stimulating STEM challenge with exploration of diverse academic areas to address a relevant societal, environmental or industrial problem.
ACT-SO
ACT-SO is an acronym for the Afro-Academic, Cultural, Technological and Scientific Olympics that provides career exploration in 26 different subject areas encompassed by the sciences,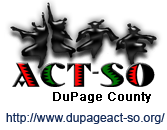 humanities, business and the arts. It is the National Association for the Advancement of Colored People's (NAACP's) principle youth initiative. The mission of ACT-SO is to encourage academic and cultural excellence among African American youth. The DuPage County Branch hosts students in DuPage, Will, Kane, Kendall and parts of Cook County who compete in local competition co-sponsored with the College of DuPage and the DuPage Regional Office of Education. Every year ACT-SO programs are simultaneously orchestrated across the United States. Are you or a high school student interested in science, like to experiment or discover new things? Are you gifted and talented? Do you like to sing, dance, act, or write poetry? Do you paint or draw? Do you have a business mind? If you do, then ACT-SO! Competition guidelines and rules can be found on this website. For more information visit ACT-SO on Facebook or their website at DuPage ACT-SO.
View photos of the 2017 ACT-SO Awards Banquet
Youth Council
With a focus on Leadership Development, The NAACP Youth Council is composed of a youth led executive team who works toward the mission of the NAACP. They serve the mission by creating forums and events to promote activism and intelligent approaches to solving issues that are important to their community and environments. Composed of hundreds of state and county-wide operations in which youth (usually teens) volunteer to share their voices or opinions with their fellow council members, and then strive to address the issues raised on a local or national level. Sometimes this volunteer work expands to an international scale.   Our branch has two youth councils.  Students have the option to join either one.  Please contact the Youth Council Advisors for more information:   Debra Jordan (dcnaacpyc@gmail.com) and Valerie Talton (vmt33@comcast.net)
Youth Works
With a focus on volunteerism and community relationships, The purpose is to design programs to get youth involved, empowered, and help them have more active participation in society. We support the development of future leaders through actively involving youth and young adults in the fight for civil rights. This program is a collection of young adults who work together to implement and carry out successful programs. For more information, contact Youth Works Committee.